Note: We produce ChatGPT-based custom papers only on request. Our standard model papers are completed by human writers. We discourage using ChatGPT in academics but can still help you with your paper using ChatGPT if that is what you need.
Essay writing companies can be a burden on students' finances. Every year, thousands of international students in Australia pay millions of AUD to academic writers to get relief from their gruelling workload. Is Chat GPT the answer to student problems? Can students generate authentic and reliable AI content from Chat GPT to bring them their desired grades?
The answer to this question is tricky.
Let's look in detail at the steps of writing an essay, assignment or dissertation using Chat GPT and whether it would be more appropriate to hire a Chat GPT essay writer who can generate content from the AI tool, put it together, arrange the formatting, proofread and edit the content, and correctly implement the required referencing style guide.
How to Write an Essay with ChatGPT
The first thing you want to do when making an essay, assignment or dissertation with ChatGPT is visit the ChatGPT website https://beta.openai.com Login to the ChatGPT Portal. You must log in to the ChatGPT dashboard to generate content from the AI tool. Registering yourself on the website is quick and simple. It is 100% free to use ChatGPT for now. If you are experiencing difficulties loading the OpenAI platform because the service is overloaded, there is an option to upgrade your membership to the PLUS version, which costs just $20/month – a great value for money.
Provide a prompt to ChatGPT to generate content for your essay, assignment or dissertation. For example, if you are writing an essay on the topic "Should people have the right to own a gun", you will need to provide ChatGPT with the prompt "Write an essay arguing people should have the right to own a gun" in the field to generate content.
You can ask ChatGPT the same question many times, and each time it will provide a slightly different answer, addressing the topic from a unique perspective. This is especially useful if you are putting together a larger piece, such as a dissertation, to add more depth to your work.
Put together the content generated through ChatGPT on a Microsoft Word document. Read the text a few times to make sure it is coherent and logically structured. Repeat steps 4-5 as many times as needed until you are happy with everything.
Proofread and edit depending on the quality of the text and the complexity of the topic of the essay. Chat GPT text must be edited and revised to ensure the paper is clear and coherent. If the text does not flow smoothly from one paragraph to another and if there are grammar and structural mistakes in your essay, assignment or dissertation, you will risk failing the paper.
Remember that ChatGPT is an AI tool. You cannot completely rely on the data, facts and information it provides. You will still need to do the bulk of the work.
BuyAssignmentOnline offers the best essay writing services to students in Australia in undergrad, master's, and Ph.D. programs. We are providing top-notch writing services, all possible because we have a team of expert writers of all the subjects.
Below are ChatGPT Results for Essay Writing Queries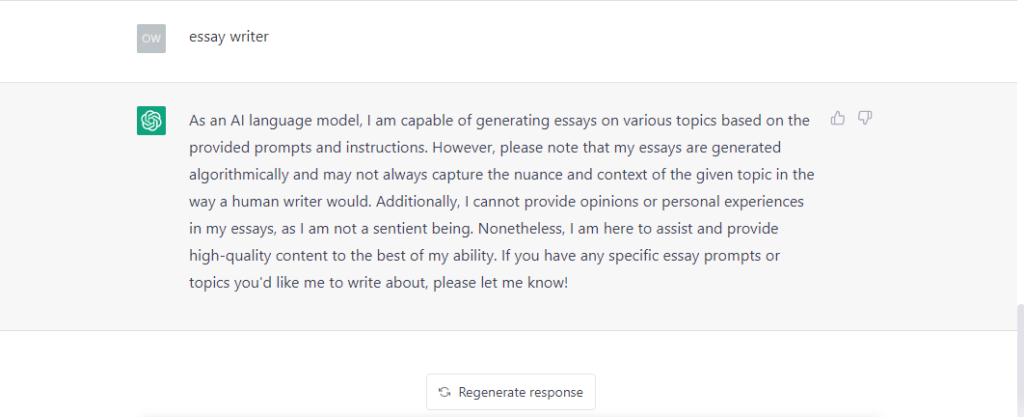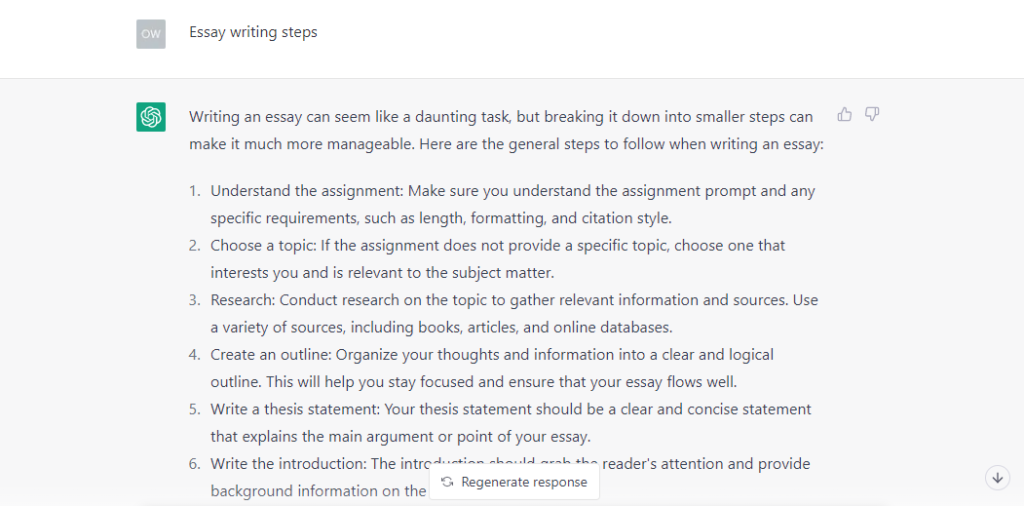 Frequently Asked Questions
ChatGPT essay writers are academic writing experts who know how to use ChatGPT to produce quality, plagiarism-free, and authentic content that is coherent, clear, concise and factually correct.
As we have seen now, ChatGPT content must be proofread, and quality checked before it can be used for academic papers.
Therefore, it is vitally important to hire an expert ChatGPT essay writer in Australia who can complete the paper according to the brief while ensuring you don't get into trouble for using AI-generated content.